Prav hitro mine mesec, če si gostja ustvarjalnega tima, ki izziv pripravi vsak drugi teden. In danes želijo pri Whiff of Joy izzivu videti čestitko pri kateri boste upoštevali določeno postavitev (kakšna je, si oglejte v nadaljevanju).
This is my second (and last at the same time) card made as a Guest Designer at Whiff of Joy Challenge. It's been great pleasure to work for WOJ, even if just for one month. :) And most of all it was fun! :) Thank you ladies for choosing me! :)
And this is the sketch you must follow if you would like to participate on this great challenge:
**************************************************************
Se še spomnite, da sem vam obljubila, male "vstopnice," ki sem jih oblikovala sama in uporabila na že kar nekaj čestitkah?? Danes lahko dobite eno izmed njih! In sicer tisto na kateri piše "Happy birthday" in vam bo verjetno tudi prišla najbolj prav, kajne? Imam tudi slovensko verzijo, ta sledi v prihodnjih dneh. ;)
Če ste slučajno že pozabili na kakšne "vstopnice" mislim poglejte čestitko iz današnje objave ali pa kliknite na spodnje slikice:
Do you remember that few weeks ago I show you few cards on which I've used this sweet little tickets and I promised you then that you will be able to download it for free here on my blog?? And today is the day! Today you can download this great "Happy birthday ticket!" You can see it on the card that I showed today and if you click on the two little pictures above you'll see another two cards on which I use "Happy birthday ticket." Every now and then I'll be giving away this cute ticket, with different sayings off course, so don't forget to check out my blog frequently. :) 
Kliknite na slikico, če jo želite shraniti: Click on the image to download it: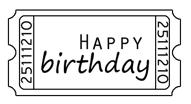 NE POZABI: Vesela bom, če boste uporabili moje "vstopnice," prosim vas le, da ko objavite izdelek z mojo "vstopnico" objavite tudi povezavo na moj blog in/ali napišete da je "vstopnica" mojih rok delo. ;) HVALA.
DO NOT FORGET: I'll be very happy if you'll use my "tickets," but please keep on your mind to mention at least my name or link to my blog whenever you use it. I would really appreciate it. Thank you!
**************************************************************
Želite osvojiti prav posebno skrinjo zakladov??
Do skrinjice zakladov, ki sem vam jo predstavila v prejšni objavi lahko pridete čisto preprosto. Vse kar potrebujete je Facebook in par klikov. :)
1. Pojdite na Facebook stran Manuelina ustvarjanja
2. Postanite oboževalci strani (če to slučajno še niste)
3. Pošljite vabilo svojim prijateljem in jim predlagajte, da postanejo oboževalci moje Facebook strani (na desni strani najdete povezavo "Priporoči prijateljem" in s klikom na njo povabite prijatelje)
4. Na zid ali na e-mail manuelina.ustvarjanja@gmail.com mi napišite kolikim prijateljem ste poslali vabila
5. Kmalu izmed vseh vas (ki boste to storili) izžrebam nekoga, ki bo osvojil leseno skrinjico zakladov in morda vanjo tudi kakšen zakladek skrijem, tako da bo presenečenje še večje :))
Skrinjico bom poslala kamorkoli na svetu, zato lahko sodelujete tudi tisti, ki ne živite v Sloveniji.
Vsa vprašanja, ki se vam morda porajajo mi pošljite na manuelina.ustvarjanja@gmail.com!
**************************************************************
Would you like to win this special treasure box??
You could easily win this treasure box, all you have to do is:
1. Become my "fan" on my Facebook page (~click here~)
2. Send an invitation to as many friends as you like and recommend them to also become fans (Click on Suggest to friends under my profile image)
3. Write on my wall or on my e-mail: manuelina.ustvarjanja@gmail.com how many invitation have you send out
4. I will then randomly pick someone who will win my treasure box and I will also hide some real treasure in it so don't hesitate and follow my simple rules "how to win this box" I promise, you won't be disappointed :)
*If you have any question please send my an e-mail to manuelina.ustvarjanja@gmail.com
I will ship worldwide!! :)
**************************************************************
Lepo se imejte do prihodnjič!
Have a nice day and thank you so much for stopping by!